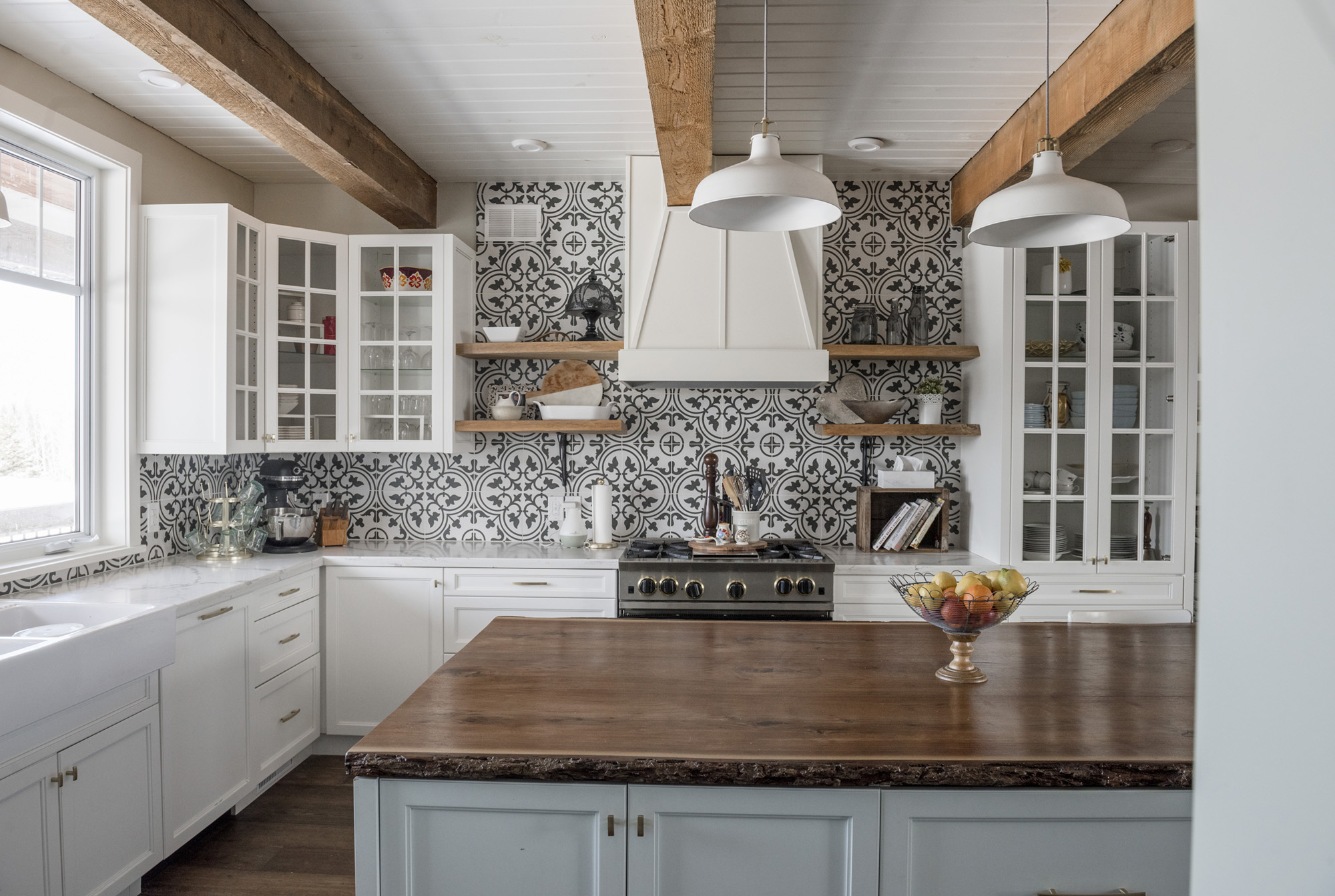 The ALMOST finished kitchen in its unnatural state (i.e. no kids, no dishes, no mess).
I'll probably mention it in another post, or maybe I already have, but we've been really impressed with the cabinet combos we went with this time. In the past we've done IKEA, higher-end Martha Stewart from HD, and I even built a fully custom kitchen including cabinet boxes and doors at our second house (still tired).
For this kitchen we went with a combination of IKEA boxes and some hinge and door hardware, but mated it with Allstyle doors and drawers. This way we were able to choose any Benjamin Moore colours and a pile of different door styles. Allstyle made it super easy; they helped us design the kitchen using IKEA parts, and then after we placed our IKEA order we sent them our pick list and they made the doors and drawers to perfectly match all of the pieces! Every clearance and hole lined up perfectly just like it was from Sweden, but with higher quality solid wood and sprayed finishes. We've already referred a few guests and family members to do the same. The range hood is our own, created in the basement workshop and fitted with a Braun range hood blower insert.
Some people give IKEA a bad rap based on name alone or on recollection of an old desk they put together in their college dorm 15 years ago, but their cabinets and hardware really do stand the test of time and can't be beat for price. Our cabinets from HD in our last house (see the post here) were nearly twice as expensive and the quality of construction was definitely not on par! We also used IKEA cabinets in the laundry room, but went with stock doors in there.
The open shelving is made up of live-edge local pine that we stripped the bark off and sprayed with an oil-based stain that Auto Home Paints mixed up for us to match the flooring colour, and the shelves are held up by Anthropologie Tour Eiffel brackets.
Lastly, and honestly, I'm not pulling your leg (or faucet head), when I say that the Delta Touch20 Faucet was one of the best choices we made in the whole build. Just tap the tap! People tell us that they caught themselves smacking their faucets at home after being out at our place for a day ?
Photos below include some more finishes shots, progress shots, and the last one is what you'll find if you managed to flip the walnut island over: a super shiny gloss epoxy finish! We thought this was what we wanted, and lived with it for quite a few months, but frankly it felt a little plastic-y and eighties for the house's vibe, so we flipped it over and just used a satin varathane finish on it.